Marcel Lanz
Dr. iur., Attorney at Law
As a lawyer, Marcel Lanz primarily offers services as counsel and litigator in private law. With his doctoral thesis he has specialized in liability law and product liability. He advises and represents clients in the areas of contract and corporate law and deals with the legal framework for new technologies. He also represents clients in criminal law matters.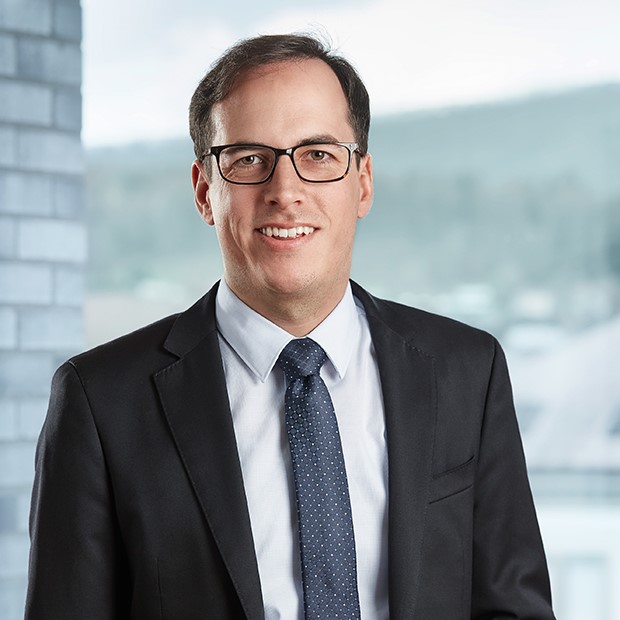 Career
| | |
| --- | --- |
| 2020 | Schärer Rechtsanwälte Aarau (Attorney at Law) |
| 2020 | University of Fribourg (Dr. iur.) |
| 2019 | Bar admission |
| 2018–2019 | Binder Rechtsanwälte Baden (legal intern) |
| 2017–2018 | Visiting Scholar Duke University School of Law (Durham, USA) |
| 2015–2017 | University of Fribourg (Research and teaching assistant at Chair for law of obligations, European Private Law and Comparison of Laws) |
| 2014 | Kantonspolizei Bern, Legal department (legal intern) |
| 2014 | University of Fribourg (MLaw) |
Additional activities
Court of Appeals for the Swiss Armed Forces, Cir. 2 (Judge)
Languages
German, English, French, Italian
Admission
Bar registration at all Swiss Courts
Teams
Corporate and M&A, Intellectual property and competition law
Publications
Urteilsbesprechung von BGer 6B_727/2020 vom 28. Oktober 2021 in AJP 2022, S. 482 ff.
Download
Arzt vom Vorwurf der fahrlässigen Tötung freigesprochen, Schweizerische Ärztezeitung 2022 (103), S. 150-152.
Download
Der Sars-CoV-2-Impfstoff – eine haftpflichtrechtliche Beurteilung, in Jusletter 8. Februar 2021.
Die Haftung beim medizinischen Einsatz synthetischer Nanopartikel, Sicherheit & Recht 2/2020, S. 100-113.
Die hypothetische Einwilligung im Arzthaftungsprozess, Schweizerische Ärztezeitung 2020 (101), S. 707-709, abrufbar unter: saez.ch
Die Haftung beim medizinischen Einsatz synthetischer Nanopartikel – Beurteilung nach allgemeiner Verschuldens- und Produktehaftung, Diss. Fribourg 2020 (ausgezeichnet mit dem Prix d'Excellence der Schweizerischen Gesellschaft für Haftpflicht- und Versicherungsrecht).
Das Verhältnis von Regulierung und Haftung am Beispiel der Nanotechnologie, Sicherheit & Recht 2/2017, S. 97-108.
Die Haftung für potenziell fehlerhafte Medizinprodukte, Anwaltsrevue 8/2017, S. 331-335.
Die heilmittelrechtliche Qualifikation von drug-delivery Produkten, ex ante 2/2016, S. 14-22.
Emerging risks – the need for legal analysis of uncertain issues, Konferenzbeitrag, Catolicà legal research Conference 2015 Lissabon.